Gods Good News of free Salvation
Articles written by
Tor Marius Gauslaa,

---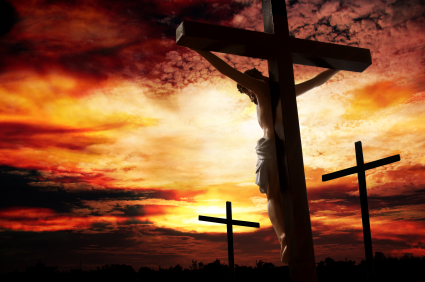 Passover:

A criminal history
or a testimony about
the greatness of God?
This title covered first page in a norwegian newspaper. And the subject was Passover, Pesach.
To me, the title became a challenge. I had prayed God to give me the right input for my sermon in our Passover celebration preaching the same evening. Knowing that our Lord has promised us that His Holy Spirit would remind us of truth pertaining to our salvation.

And I wondered: Criminal history – or testimony of Gods greatness?

And after a while – the conclusion: Not whether or, but both!

In our Bible, the divine revelation of Gods holiness, love and salvation given us, we will find that the story of Passover is in fact a criminal story AND also a wonderful testimony of God's greatness! It is in fact a credible description of darkness and light, evilness – and resurrection. A revealing documentation of crime. A story filled with the worlds evilness and hatred: The power of satan, the God-hating forces of this world, and the true nature of men's heart . And in it: The overruling will and might of our God!
The original Passover, the true origin of our "Christian" way of celebrating it, is described in Exodus chapter 12. Here we find the Father of the household. We will find the lamb without blemish. One lamb would be sufficient for the whole household. We will find ruler of "this world", the Pharaoh. And also the slaves, our Israeli friends, all of them longing for freedom. And also longing for their true homeland.
Do you see the parallels? Do you see how all of it are foreshadowing the way our Almighty God, our heavenly Father, has arranged all in order to save us and call us into His salvation? (He) who hath saved us, and called [us] with an holy calling, not according to our works, but according to his own purpose and grace, which was given us in Christ Jesus before the world began, 2 Tim.1:9.
The price to be paid for our deliverance – was the blood of the lamb.
Oh, that precious blood of Christ – has made me white like snow!
Christ, the Messiah, The lamb of God came at the right time into our world, in order to confront and defeat satan and his hosts. And He did. Completed the great task. Cried out: Finished! Completed! Neither by the blood of goats and calves, but by his own blood he entered in once into the holy place, having obtained eternal redemption [for us]. Heb.9:12:
He is the one asking us to enter His door of salvation. He has opened His divine heart for us, welcoming us into himself: John 10:9: I am the door: by me if any man enter in, he shall be saved, and shall go in and out, and find pasture. The jambs of this door are covered with His holy blood, 1 Pet.1:19, the precious blood of Christ, as of a lamb without blemish and without spot. Because He himself was Acts 8:32 the one led as a sheep to the slaughter; and like a lamb dumb before his shearer, so opened he not his mouth. He was chosen by His father to do what no man could and would do: To be the atonement for sin for the whole mankind! To enable man to be saved from the power of satan and to be Gods true property: For we (you and me!) are his workmanship, created in Christ Jesus …..Eph.2:10
Gods declaration was and is: when I see the blood, I will pass over you, and the plague shall not be upon you to destroy [you], Ex.12:13. Although you cannot "see" the blood, it is important for you that you trust it. And if you doubt it, please read and cling to the fact given you in Rom.8:1:[There is] therefore now no condemnation to them which are in Christ Jesus, who walk not after the flesh, but after the Spirit.
I have tried to explain, to show some of Gods wisdom and love, the way He acted in order to justify us, to purchase us unto Himself. You are in fact His property. His Bride. He paid His own life in order to make you His own. This is how God has shown us His greatness. Because satanic forces, the systems of this world – mans hatred and the forces of death could not ruin Gods might and love. Stated in Col 2:14 and 15 we read: Blotting out the handwriting of ordinances that was against us, which was contrary to us, and took it out of the way, nailing it to his cross; [And] having spoiled principalities and powers, he made a shew of them openly, triumphing over them in it.
We rejoice in the statement given us in Mark 15:39: And when the centurion, which stood over against him, saw that he so cried out, and gave up the ghost, he said, Truly this man was the Son of God.
Death and grave was not able to keep Yeshua. That's way the messenger could say: He is not here: for he is risen, as he said. Come, see the place where the Lord lay. Matt 28:6.
OK you say, this is about the greatness of God. But what about the criminal story?
Although you know how the powers of this world tried to eliminate and stop Gods salvation from the very beginning (Matt 2:3 and Rev 12:4), the criminal story is also described in Acts 2:22-24:
Ye men of Israel, hear these words; Jesus of Nazareth, a man approved of God among you by miracles and wonders and signs, which God did by him in the midst of you, as ye yourselves also know: 23 Him, being delivered by the determinate counsel and foreknowledge of God, ye have taken, and by wicked hands have crucified and slain: 24 Whom God hath raised up, having loosed the pains of death: because it was not possible that he should be holden of it.

Men of Israel – guilty in the murder of Messiah – like some of the "church Fathers" have alleged?
Please also read Acts 4: 26-28: 26 The kings of the earth stood up, and the rulers were gathered together against the Lord, and against his Christ. 27 For of a truth against thy holy child Jesus, whom thou hast anointed, both Herod, and Pontius Pilate, with the Gentiles, and the people of Israel, were gathered together, 28 For to do whatsoever thy hand and thy counsel determined before to be done.

Yes, a criminal story. And the criminals are: Men of Israel. The kings and the rulers of the earth. Herod. Pontius Pilate. WITH THE GENTILES. We are all together responsible for the rejection and crucifixion and death of Gods beloved and only begotten son! In fact, concluded in Romans 3:19:
Now we know that what things so ever the law says, it says to them who are under the law: that every mouth may be stopped, and all the world may become guilty before God.

The whole world. All mankind. You and me. Criminals, all of us. Guilty!

But thank God. He is not only our Judge. He is also our defender. Always at the right place, with the right legal section for our and the whole world's acquittal: My little children, these things write I unto you, that ye sin not. And if any man sin, we have an advocate with the Father, Jesus Christ the righteous. And he is the propitiation for our sins and not for ours only, but also for [the sins of] the whole world. 1John 2:1-2.
How is this possible? Once more: The greatness of God, clearly stated in Romans 3: 23-24: For all have sinned, and come short of the glory of God; 24 Being justified freely by his grace through the redemption that is in Christ Jesus.
Today, having seen the salvation of our Lord, we can tell each other – and urge people like our brother Moses did in the first Passover: ( Exodus 14:13) Fear ye not, stand still, and see the salvation of the LORD.

See what? Look unto Yeshua. Son of God. Son of man:
Behold the Lamb of God, which takes away the sin of the world. John 1:29 and 36.

And together we can read, analyze and comfort ourselves in reading 1Cor 5: 7 and 8:
Purge out therefore the old leaven, that ye may be a new lump, as ye are unleavened. For even Messiah our passover is sacrificed for us 8 Therefore let us keep the feast, not with old leaven, neither with the leaven of malice and wickedness; but with the unleavened [bread] of sincerity and truth.
And also forward the good news, from Gods heart and from your heart to our fellow men's heart, just like brother Paul did:
And the times of this ignorance God winked at; but now commands all men everywhere to repent. Acts 17:30.


By turning around, you will see Him who always sees you. Yeshua. Gods salvation.

---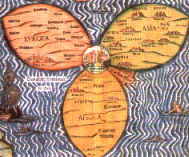 An old map - where East and West and South meet in Israel and Jerushalayim in the middle

Making Aliyah -
TO
YERUSHALAYIM
AND HEAVEN ABOVE


In Exodus 15:13 we will find one of history's first songs and praises:
Thou in thy mercy hast led forth the people [which] thou hast redeemed: thou hast guided [them] in thy strength unto thy holy habitation.
God has secured the song in order for us to know how to praise Him on our "Aliyah", the Hebrew word for ascending, going up, on our way through life – towards our heavenly Jerusalem in our eternal homeland above.
The singers were Moses, his sister Miriam and the redeemed Hebrews, the children of Israel. Hundreds of thousands of them.
We have so many things in common with them! And we know for sure that we too have been called out and bought out from this worlds Egypt to be Gods property.
The Lord is our shepherd who gave himself for us – being the true and all-sufficient Lamb of God. This fact, and the effect of knowing same, has clearly been affirmed in 1 Cor.5:7: Purge out therefore the old leaven, that ye may be a new lump, as ye are unleavened. For even Christ our passover is sacrificed for us. Through His blood we have been redeemed from this world. And like the Hebrews (meaning: One from beyond, from the other side), we too have been transferred from the other side: From the power of satan, death, sin and darkness, to the realm and protection of God, to freedom, to light and eternal life: Verily, verily, I say unto you, He that heareth my word, and believeth on him that sent me, hath everlasting life, and shall not come into condemnation; but is passed from death unto life. John 5:24. Also confirmed in 1 John 3:13 and 14: Marvel not, my brethren, if the world hate you. We know that we have passed from death unto life, because we love the brethren. He that loveth not [his] brother abideth in death.
He, the great and eternal Shepherd is leading us homeward step by step.
His goal is to make us real free: If the Son therefore shall make you free, ye shall be free indeed. John 8:36. Free from the sinful way of life that enslaved us. Free to see both men and God face to face, and join Miriam and Moses and all redeemed in their song. And he hath put a new song in my mouth, [even] praise unto our God: many shall see [it], and fear, and shall trust in the LORD. Ps.40:3.
How and why can we rejoice like this, despite all the trouble meeting us on our way homeward?
We trust and give glory to Him who loved us so much that He gave His life for us. Our salvation is "made in Heaven". The quality of it is perfect and everlasting. For the gifts and calling of God [are] without repentance (irrevocable). Rom.11:29. For all the promises of God in him [are] yea, and in him Amen, unto the glory of God by us. 2 Cor.1:20. Through His eternal power – we are making Aliyah from all parts of this world. All of us are "olim" – spiritual immigrants: But we are citizens of heaven, and it is from there that we expect a Deliverer, the Lord Yeshua the Messiah. He will change the bodies we have in this humble state and make them like his glorious body, using the power which enables him to bring everything under his control. Phil.3:20-21 Complete Jewish Bible.
When "marching" home, our enemies we will try to hinder us and accuse us. But God has promised, that in spite of all difficulties in our flesh, from the world and from satan himself, our great Shepherd will get us safe home: John 10: 27 -30: My sheep hear my voice, and I know them, and they follow me: And I give unto them eternal life; and they shall never perish, neither shall any [man] pluck them out of my hand. My Father, which gave [them] me, is greater than all; and no [man] is able to pluck [them] out of my Father's hand.I and [my] Father are one.
And Phil.1:6: Being confident of this very thing, that he which hath begun a good work in you will perform [it] until the day of Jesus Christ.
Safe, for time and eternity, in the arms and hands of The eternal one!
So we can triumph with God: What shall we then say to these things? If God [be] for us, who [can be] against us? Rom 8:31.
If you want to look at yourself and Gods people with a birds eye, that is – from above – please read the dramatic chapters in Num 23 and 24, divine blessings and prophecies from the mouth of Bileam:
Behold, I (Bileam) have received [commandment] to bless: and he hath blessed; and I cannot reverse it. He hath not beheld iniquity in Jacob, neither hath he seen perverseness in Israel: the LORD his God [is] with him, and the shout of a king [is] among them. God brought them out of Egypt; he hath as it were the strength of an unicorn. Surely [there is] no enchantment against Jacob, neither [is there] any divination against Israel: according to this time it shall be said of Jacob and of Israel, What hath God wrought! Behold, the people shall rise up as a great lion, and lift up himself as a young lion: he shall not lie down until he eat [of] the prey, and drink the blood of the slain. Num.23:20-24.
And Num.24:15-19:
And he took up his parable, and said, Balaam the son of Beor hath said, and the man whose eyes are open hath said: He hath said, which heard the words of God, and knew the knowledge of the most High, [which] saw the vision of the Almighty, falling [into a trance], but having his eyes open: I shall see him, but not now: I shall behold him, but not nigh: there shall come a Star out of Jacob, and a Sceptre shall rise out of Israel, and shall smite the corners of Moab, and destroy all the children of Sheth. And Edom shall be a possession, Seir also shall be a possession for his enemies; and Israel shall do valiantly. Out of Jacob shall come he that shall have dominion, and shall destroy him that remaineth of the city.
As far as I see it, these promises are still valid. For the jewish people and nation, and also, in a spiritual way, for the whole redeemed church. It is a irrevocable guarantee for you and for me and all those trusting the complete sufficiency of Gods perfect and sinless Lamb Jesus The Messiah.
We are, in fact, already planted in and on His holy habitation. In Gods own heart and Heaven. In Gods time, through death or rapture, we will literally take the last stage in our Aliyah, being true olim in the heaven above: …. you have come to Mount Tziyon, that is, the city of the living God, heavenly Yerushalayim; to myriads of angels in festive assembly; to a community of the firstborn whose names have been recorded in heaven; to a Judge who is God of everyone; to spirits of righteous people who have been brought to the goal; to the mediator of a new covenant, Yeshua; and to the sprinkled blood that speaks better things than that of Hevel. Hebr 12:22-24 Complete Jewish Bible.
Let me end this greeting to you, my dear reader, with His exhorting and comforting words from the beginning of same chapter 12, verses 1 to 3:
So then, since we are surrounded by such a great cloud of witnesses, let us, too, put aside every impediment—that is, the sin which easily hampers our forward movement—and keep running with endurance in the contest set before us, looking away to the Initiator and Completer of that trusting, Yeshua—who, in exchange for obtaining the joy set before him, endured execution on a stake as a criminal, scorning the shame, and has sat down at the right hand of the throne of God. Yes, think about him who endured such hostility against himself from sinners, so that you won't grow tired or become despondent.
---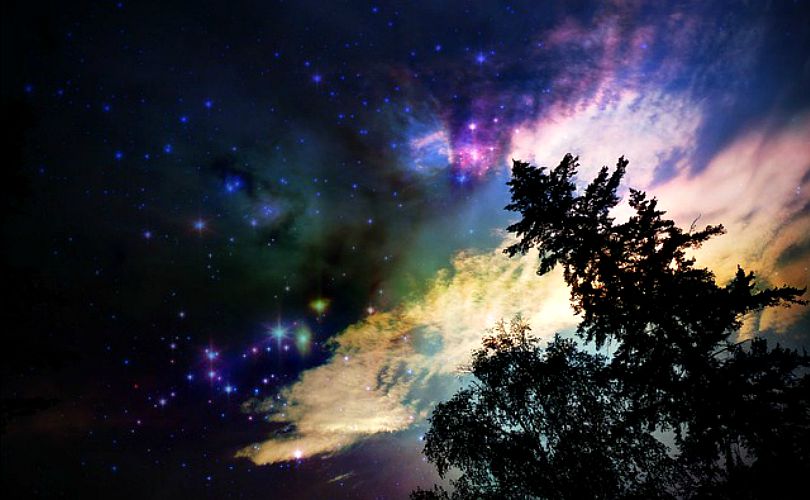 GLAD
TIDINGS
FROM ABOVE
When God announced His glad tidings about man's salvation, He did it in the beginning of our history. In the Garden of Eden, shortly after Adam and Eve had sinned and lost their close relationship and confidence in God, He promised them that He should arrange for their salvation. You will find His promise, the proto gospel, in Gen 3: 15: One day – in the unknown future, the seed of Eve should bruise the power of Satan, the serpent.
God cannot lie. The only thing He is able to forget, is our sins. He will never forget or fail to complete his promises. He will always arrange, in some way or another, for their fulfilment. Some times through men, through animals, nature, incidents, angels – or by direct intervention.
In Isaiah 7:14 he reminded us of what he wanted to do in order to complete his salvation-plan: Therefore the Lord himself shall give you a sign; Behold, a virgin shall conceive, and bear a son, and shall call his name Immanuel.
The Hebrew word for sign is also the word for signal. Therefore – we should listen carefully to it. A virgin should conceive. There will be no sign in seeing an ordinary girl having become pregnant by man in the ordinary, natural sexual way. But a young girl, a virgin untouched by man, yet pregnant - bearing and bringing forth a male child into this world – should be Gods and Heavens signal for mankind that something new should happen. Something that would astonish both men on earth and powers in heavens. The name and functions of this extraordinary creature to be born – should be Immanuel: God with us! The almighty Creator among us, not as an enemy, but as a fellow man!
The promise given to and through the prophet was announced about 700 years before the event described in Luke 1:26: ….the angel Gabriel was sent from God unto a city of Galilee, named Nazareth.
Although His chosen nation Israel at that time was occupied and humiliated by oppressors, God was still in control! He had and He has an innumerable army of angels for his disposal. And he sent one of them, the archangel Gabriel – to a chosen lady on earth. To a young, devoted girl named Mary, Miriam in the correct Hebrew language, living in this small city of Nazareth in the Holy land of Israel. Remember: God in control! Despite what man think and what you may feel. He knows all things. He is seeing everything and everybody. Our situation, be it good or bad. Our feelings. Our behaviour. Everything. And he is able to act precisely in the right time.
The exact time for our Lords conception in the womb of Miriam had been settled from eternity. And now he announced the process to start. Miriam wondered – how? And God revealed how He himself, through his own Holy Spirit, the Ruach HaKodesh, should enter and sow His own holy seed into the body of this virgin – in order for Himself to enter into this world, both as the blameless Son of Man and the Son of God. The divine and eternal one to be born and to live among us. And finally to die among us and for us. Like we read in Heb.2:14: that through death he might destroy him that had the power of death, that is, the devil.
We all know the promise from Isaiah 9:6: For unto us a child is born, unto us a son is given: and the government shall be upon his shoulder: and his name shall be called Wonderful, Counsellor, The mighty God, The everlasting Father, The Prince of Peace.
When meeting this young girl, Gabriel (his name means Gods warrior or man of God) is addressing her as highly favoured, a person being blessed by Gods grace. God is greeting you and me the same way today! He loves and respects his own creatures. He knows where we live, our name and all our circumstances. And he will never frighten us, assault us or try to force himself into our heart. He is showing us the noble, divine respect, having no intention to steal, only to conquer our heart by weapons of love.
-Fear not, Mary! he said. Messengers from God should behave the same way today. Bringing in Heavens shalom to this frightened world. When reading the Gospel – and also the letters from Gods apostles, we will find this salute again and again: -Fear not! It is I! The everlasting, self-existing one!
Today, more than 2000 years after Gabriels visit to Miriam, parts of his promises have been completed! The child has been born. He, Yeshua, meaning The Lords Salvation and The Lord Saves, has done what His name testifies and what He came to do! He lived His life on earth – and Satan, the accuser, had no chance in deceiving him! … the prince of this world comes, and has nothing in me, our Lord proclaimed before entering the cross. John 14:30.
And when hanging there, as the Lamb of God and also as our substitute, he cried out the word that shocked and shook both earth, hell and universe: It is finished! And he bowed his head, and gave up the ghost. John 19:30. The triumph of the crucified! The conqueror of sin, satan, death and hell!
The high priest had prophesised correctly when arguing it to be expedient for us, that one man should die for the people, and that the whole nation perish not. John 11:50.
Yeshua died for you and me. For the Jewish people. For us gentiles. For the whole world. So far, Gods plan of salvation had succeeded.
But it did not end there. He shall be great, and shall be called the Son of the Highest, Gabriel promised. He is the greatest person who has walked on this earth. The greatest person in the whole universe. He is Son of the Highest God. If you doubt it, please read Phil.2:6-11, describing the triumph of the crucified servant and Son: being in the form of God, thought it not robbery to be equal with God: But made himself of no reputation, and took upon him the form of a servant, and was made in the likeness of men: And being found in fashion as a man, he humbled himself, and became obedient unto death, even the death of the cross. Wherefore God also hath highly exalted him, and given him a name which is above every name: That at the name of Yeshua every knee should bow, of [things] in heaven, and [things] in earth, and [things] under the earth; And [that] every tongue should confess that Yeshua the Messiah [is] Lord, to the glory of God the Father.
Are you confessing Him in your heart and life?
God will also secure that the remaining parts of the promises, spoken through Gabriel to Miriam will be completed: And the Lord God shall give unto him the throne of his father David. And he shall reign over the house of Jacob for ever; and of his kingdom there shall be no end! Luke 1:32-33.
This has also been confirmed in Rev.12:5, describing things "back stage": And she brought forth a man child, who was to rule all nations with a rod of iron …..
When reading about the conflict in the Middle East, we often wonder: Will there be an end to all the hatred, the sufferings and problems? Will man be able to solve this enormous problem? Maybe we simply will ask and use the same words as Miriam: How shall this be? ….
And Gods answer is: For with God nothing shall be impossible!
Once more he will enter the scene. Not through Gabriel or angels, but He himself – personal. Yeshua the Messiah. The anointed one. The Prince of peace. The holy one. Son of God. Son of Miriam. Now proclaiming: I [am] he that liveth, and was dead; and, behold, I am alive for evermore, Amen; and have the keys of hell and of death. Rev 1:18.
It's up to you and me to trust Him right now. To believe in Him. To receive Him and rejoice in His victory. And to join His winner-team.
Here and now you are invited to Him and into His fellowship.
Through faith and baptism you can testify for Him, mankind and the whole universe: Yeshua! You are my Saviour and my king! And you will be His jewel, His laurel wreath. Close to and included into His divine heart. And He will be included into your heart. True Heart To Heart fellowship. For time and eternity!
---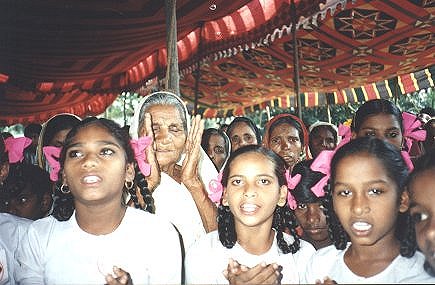 Do you see The star in
their eyes? Photo from
one of my India-visits,
taken during a
convention.
Have YOU
seen His star?
You have probably heard about the wise men from the east. (Matthew 2:1-12). We use to study them and tell about them at each Christmas.
We don't know exactly where they lived and how many they were. But we know one thing for sure: They were wise people – in its deepest and divine sense (Proverbs 9:10). Why? Because they had heard or read – and trusted the prophecy of the eternal King to come! We find such an old and trustworthy statement in the Bible, spoken some 1400 years before the birth of Yeshua at Beit-Lechem: I see him, but not now; I behold him, but not so soon – a star will step forth from Ya'akov, a sceptre will arise from Isra'el. Numbers (B'Midbar) 24:17. And the wise persons waited for Him, eagerly looking forward to see Him face to face. They were bold witnesses in proclaiming Him. And they desired to bring Him presents, something they thought He would appreciate.
When I was among you in India, I saw a lot of such wise people. I saw it in their eyes. They were children, women and men. Gathered in prayer-sheds, churches, orphanages, homes, streets and villages. They all had the same experience as those first wise people from the east: They had seen His star! I could see the reflection of that star in their eyes, the divine and heavenly light shining forth from their heart. And I will never forget it! Whenever I tell about the wise men from the east here in Norway where I live, I use to tell about my Indian friends. I rejoice in the fact that God of the universe revealed His plan of Salvation to them. The people in the east. And that He provided this fact to be written for all mankind in His Holy Scripture.
They had a wonderful experience, those wise people! And they brought with them, all the way from east, that brave and mighty testimony of the newborn King. They had no doubt in their heart: They had seen the star themselves! God had revealed His operation for them. Just as we know it from 2Cor 4:6: For it is the God who once said, "Let light shine out of darkness," who has made his light shine in our hearts, the light of the knowledge of God's glory shining in the face of the Messiah Yeshua.
Each person having received and trusted Gods perfect salvation given us in Yeshua, have experienced the quoted verse. And the same divine "aha"-revelation as those wise people from the east! God has no favorites among us. There is no system of caste in the people called and ordained by Him. All of us are being saved, treated, educated and preserved by Him, our Savior, Lord and King. For God is one; and there is but one Mediator between God and humanity, Yeshua the Messiah, himself human. 1Tim 2:5.
Please notice the effect the heavenly light, that bright star, had in and on those wise men. They got into motion. They set their course toward the region, country, people and town elected by God to be His channel for the revelation of His salvation: The seed of Abraham, the land and people of Israel. Exactly like Yeshua himself confirmed: Salvation comes from the Jews. John 4:6.
When seeing and receiving Yeshua in our heart, He is able to work inside of us, working through us. Please read, trust and mediate upon Titus 2:11-13, assuring that God's grace, which brings deliverance, has appeared to all people. It teaches us to renounce godlessness and worldly pleasures, and to live self-controlled, upright and godly lives now, in this age.
Having received God's Salvation, He will further reveal Himself in you, just like He did to the wise. He did not limit His revelation to that star alone. Gradually, they came closer and closer to the Holy One. They were taught more specifically about His birthplace and were directed to it. They saw him, face to face. Standing and kneeling before him, they could have quoted the prophecy given more than 700 years earlier: For a child is born to us, a son is given to us, dominion will rest on his shoulders, and he will be given the name of Wonder of a Counselor, Mighty God, Father of Eternity, Prince of Peace…Yesh'yahu 9:6.
About 30 years later, this person, born in Beit-Lechem, the town of bread where Rut met her Savior, the place where David grew up, invited and challenged us when he announced that I am the light of the world; whoever follows me will never walk in darkness but will have the light which gives life. John (Yochanan) 8:12. Having Yeshua in your heart, He has enabled you to walk through life in the life-giving and clarifying light from heaven. He has branded you with His illuminating Holy Spirit, thus cleaning your heart and enabled you to be a lighthouse, a torch, in this dark world. Just like He demonstrated on the festival of Shavu'ot, described in Acts 2:3: They saw what looked like tongues of fire, which separated and came to rest on each one of them.
Dear reader, I urge you to pray God to enter your heart and your life.
He is able and willing to do the same to you today what he did to his friends from the east. And for his jewish friends later, just before leaving them: He opened their minds, so that they could understand the scriptures (Tanakh). Luke 24:45. Exactly the same thing He did to the God-fearing purple-dealer Lydia: The Lord opened up her heart… Acts 16:14.
Having entered your heart, I can assure you that He will safeguard you all the way through life and into Heaven. Being a Wonder of a Counselor, he will instruct you and teach you in this way that you are to go; he will give you counsel; his eyes will be watching your spirit, soul, body and life. Psalms (Tehillim) 32:8.
You will be a wise person in the east. Experiencing the same as the first wise men did. Your path through life will be like theirs. Like the light of dawn, shining ever brighter until full daylight. Proverbs (Mishlei) 4:17. Honoring God of the universe who came into this world in order to conquer satan, save men – and establish His eternal kingdom. You will see Him, Yeshua - who indeed was made for a little while lower than the angels—now crowned with glory and honor because he suffered death, so that by God's grace he might taste death for all humanity. Heb 2:9.
He is the only, true God. KING OF KINGS AND LORD OF LORDS.Rev 19:16.

Tor Marius Gauslaa
---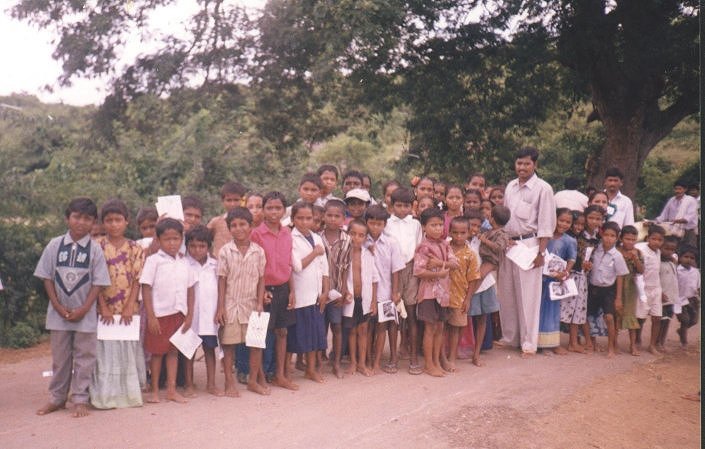 Some of our indian Heart To Heart-friends,
keeping close to their teacher and evangelist.
They have started walking with the One and
True God.

OBITUARY NOTICE OF A SAINT


And Enoch (Hebr.:Hanokh) walked with God:
and he [was] not; for God took him. Gen 5:24
Being a former editor and journalist, I some times had to write an obituary notice, describing a person who had passed away.
I had to formulate the true and positive character and personality of the deceased. Give a short history of the life now ended. And some examples of the most characteristic features and prominent achievements of the one departed.
God is the "editor" of The Holy Scripture, The Bible. And He has written obituary notices of persons and witnesses through the ages. One of them is Enoch. This is the best obituary notice ever written: And Enoch (Hebr. Hanokh) walked with God: and he [was] not; for God took him. Gen 5:4.
God has told us his name. Enoch - or Hanokh. It means teaching and initiation. Enoch was a student of God. Was being continually taught by The almighty. The one who had created heavens and earth. The one who had walked in Garden of Eden in order to find and save the first man: Adam and Eve. And now Enoch himself had something to teach and tell his fellow men. Wisdom from above. Not only through his words. Even more through his wandering, his personality, his whole life. He was a shining model, a testimony, a living teaching for all those seeing him and listening to him.
He was closely initiated into Gods wisdom and secrets. Walked close to Him. Just like God wanted him to walk. Enoch did not run in front of, or before God. And he did not follow far behind Him like a backslider. No, he walked in the same tempo, keeping the same step as his divine Master and Companion, our Lord himself!
What a wonderful portrayal of a saint! A challenge for all of us, both individuals and churches. Being like Enoch, we should be ready and willing to listen to our Lords words. Willing to follow His path, advice and direction. Being both a teacher and a teaching. In our personal life and in our assembly: He that hath an ear, let him hear what the Spirit saith unto the churches. Rev.3:22.
If you want to converse and listen to someone while walking, you have to keep close to him. That's what Enoch did. Exactly like we are recommended to in James 4:8: Draw nigh to God, and he will draw nigh to you. And in Eph 2,10: For we are his workmanship, created in Christ Jesus unto good works, which God hath before ordained that we should walk in them.
You remember the two disciples walking from Jerusalem to Emmaus, Luke 24. I think God is giving us a symbolic lesson in same: Walking away from Jerusalem, into the wrong direction. Leaving the intimate community with God and our saved friends will always increase our depression, make us impotence and fatigue in our life and work. But when Jesus himself drew near, and went with them – things changed: And they said one to another, Did not our heart burn within us, while he talked with us by the way, and while he opened to us the scriptures?
And they rose up the same hour, and returned to Jerusalem, and found the eleven gathered together…
Burning hearts - set on fire by God himself through His Holy Spirit. Fire illuminates, shines, heats and purifies.
Do you remember Peter following Jesus afar off. Luke 22:54. Another lesson with tragic consequences described in the verses to follow: Peter's denial and bitter tears.
May God help us to walk like Enoch: Close to Him. Singing Just a closer walk with Thee! Until the day of our last minute on earth. We don't know when and how our departure will be. If through death, we can testify like David: Yea, though I walk through the valley of the shadow of death, I will fear no evil: for thou [art] with me; thy rod and thy staff they comfort me. Ps.23:4.
Or through transmission of our bodies by His return – according to His promise in John 14,3. Confirmed in 1 Thess.4:16-17: For the Lord himself shall descend from heaven with a shout, with the voice of the archangel, and with the trump of God: and the dead in Christ shall rise first.
Then we which are alive [and] remain shall be caught up together with them in the clouds, to meet the Lord in the air: and so shall we ever be with the Lord.
What happened to Enoch, will happen to us too. Because Christ clearly claimed: Father, I will that they also, whom thou hast given me, be with me where I am; that they may behold my glory, which thou hast given me: for thou loved me before the foundation of the world. John 17:24.
So keep on walking, sister and brother. Close to God. In His before ordained works. With His light inside of you and around you. In His light of life. In His newness of life. In His Spirit. In His truth. A true Enoch. For men. And for God.

Tor Marius Gauslaa
---


The Way to Heaven
I am the way....John 14,6






From my childhood (that will be fifty years ago), I remember a special text or slogan written on a house-wall some 25 miles away from home. We had to pass this house and watch this slogan each time we were heading for our district's capital. The text made a deep and unforgettable impression in my mind: If you want to go to Heaven – walk the way that leads there.
I don't know anything about the owner of this house and author of the slogan. But one thing I know for sure: The owner wanted to recommend and tell people how to reach the right place - Heaven.
All of us want to live a good life in this world. None of us want to be poor, sick, disabled, unhappy, hungry, frightened, expelled from family, friends and society.
And all of us want to have a good life when our time on earth has passed.
In the Bible, we have a lot of testimonies confirming the same. From women and men who lived under different circumstances, admitting the fact that this life is in no way the last stage. God has given all of us an immortal soul. When and if our mortal body dies, our immortal soul and spirit will enter into eternity. But where will it go? Where will they, the essence of your personality, live when leaving the condemned, dying body?
If you have heard of the place called Paradise or Heaven, I am sure you will answer: When time comes, then I want to go to Heaven!
So do I. When time comes and I have to move and leave my dear ones on earth (God alone knows when), then I really want to enter my eternal home in Heaven. The place where there will be no tears. No fright. No sickness. No poverty. No grief. No problems at all. Only well-being. Happiness. Joy. Enthusiasm. Safety. Perfection. Acceptance. Meaningful existence.

Three questions arise:
How do we, or more specific, how do I, reach that place?
Will there be place and space enough – for me?
Will there be any guarantee for me reaching this wonderful place?

Answer to the first one:
The text on the wall gave the right answer. The first and only term for reaching Heaven is walking it! And God Himself has showed us how. Having entered into His saving arms, you are in the right field heading the right direction. Because He has proclaimed: I am The Way. (John 14,6) Please note that He has not described himself as one of many routes to Heaven. He clearly states He is the Way. Relying upon Him, believing in Him. No other claims. No additional charges. Trusting Him is your one-way-ticket from here and straight into Heaven!

This is The Gospel! Jesus is God a new and living way consecrated for us who trust him. Heb.10:20. Through Him, God is offering free access for the whole mankind to His eternal abode. He has paid the "ticket" Himself for us by shedding His precious blood at Calvary. And when opening this new and living way there, He demonstrated it by having the repentant thief and murderer entering right into Paradise with him. Luke 23,39-43. If you trust Jesus, you belong to "this way" (Acts 9:2). Your final destination is Heaven. This is where this new way is ending.

As to question two:
Yes, there is place enough! God has made both the visible universe and the invisible Heaven extreme spacious. Both demonstrate His nature and desire: He will have all men to be saved, and to come unto the knowledge of the truth.1.Tim.2:4. Jesus confirmed same attitude when stating that in my Father's house are many mansions. John 14:2.

Answer to question three:
Yes, God has issued His guarantee for you. You will find this guarantee in many passages of His Holy Scripture. Jesus said: And I give unto them eternal life; and they shall never perish, neither shall any [man] pluck them out of my hand. My Father, which gave [them] me, is greater than all; and no [man] is able to pluck [them] out of my Father's hand. John 10:28 –29.

Based on God's perfect salvation, His own invitation – and His present life as our Advocate in Heaven, we proclaim the assuring Heart To Heart-testimony given by the apostle Paul in Rom.10:13: For whosoever shall call upon the name of the Lord shall be saved.

Tor Marius Gauslaa
---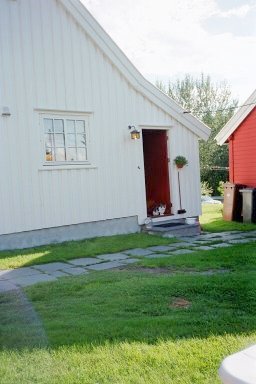 The door to Heaven

I am the door:
by me if any man enter in,
he shall be saved.............John 10,9




We all know the meaning of the word a door. It is an entrance, portal opening between two different areas.
When I was a little boy, I some times dreamt to be persecuted by the "trolls", some threatening monsters believed to be living in our Norwegian hills.

I still remember how I managed to escape these monsters, running as fast as I could to the place where I felt safe: Into the door in my own home and house (photo). I slammed and locked the door behind me, knowing that behind this door, the monster could not reach me. I was saved behind and because of this door. Not due to my own strength or skill. But simply because I had passed into safety through the entrance.
The almighty God has given us such a way and place to hide. He has provided for us a door, a divine portal into life and security for time and eternity. Nothing and no one can destroy or deprive the safe position given the person having entered this divine door prepared by Him.

Why and how is it possible? Just because the door is God himself! The door into his living, loving, caring and almighty heart! He himself is the guarantor of the salvation through this special door. You can read it by yourself in John 10,9: -I am the door: by me if any man enter in, he shall be saved, and shall go in and out, and find pasture. In the Complete Jewish Bible, the same statement is quoted: I am the gate, if someone enters through me, he will be safe, and will go in and out and find pasture.
Some people will ask: How do I enter this gate? Do I have to pay something to enter it? Will I have to climb into it? To press, force or push? NO! Just enter it! Walk right in! Into the wide opening arms of Jesus Christ! Into His love. His grace. His peace. His comfort. His purity. He Himself is welcoming you, waiting for you to accept the perfect and complete salvation He has provided.
When (old?) Shim'on saw the child Jesus (Hebrew: Yeshua) being brought into the Temple, he blessed God and said: ..mine eyes have seen thy salvation (in Hebrew: yeshu'ah!). Luke 2:30.
Seeing this Jesus, God himself in human Phil.2:7:
God made himself of no reputation, and took upon him the form of a servant, and was made in the likeness of men (Phil.2:7) when coming to us, living among us – and at last giving His own life for us at Calvary, thus being made a curse for usin order to redeem us. Gal. 3,13.
Now He is inviting all people into His Salvation, the divine "air-ride-shelter". The door is wide open for you, dear reader! He demonstrated it when stretching out His everlasting arms at Calvary. And He is welcoming YOU into this refuge by His own words in John 6,37: - All that the Father giveth me shall come to me; and him that cometh to me I will in no wise cast out.Please also read Matt.11,28.
Having heard, read and accepted His invitation, we ask and urge you simply to trust Him! This is how you will become a saved person – thus entering Him as the only eternal refuge for your life and soul.
Having "walked" into this door by trusting His invitation, you are inside. - I will in no wise cast you out, He said. You are saved and safe, just like the persons who escaped the awful judgement in the days of Noah. They went into the ark (Jesus) – and the Lord shut them in. Genesis 7,16.
In the same way, you are saved and safe just like the persons who were sheltered from penalty and death in Egypt – simply because they hid behind the door with God's own token on it: The blood of the slaughtered, unblemished Lamb! (Isaiah 53, 5-8, John 1,29 and 36, Acts 8,32, 1Pet 1,19 and Rev.5,6). The Lord had declared and promised: And the blood shall be to you for a token upon the houses where ye [are]: and when I see the blood, I will pass over you, and the plague shall not be upon you to destroy [you], when I smite the land of Egypt. Ex.12,13 and 22.
Having received and accepted His invitation, you can rejoice in His eternal and almighty care. Just like Paul did, when he triumphant announced: Therefore if any man [be] in Christ, [he is] a new creature: old things are passed away; behold, all things are become new. 2.Cor.5,7. [There is] therefore now no condemnation to them which are in Christ Jesus.. Rom.8,1.

Tor Marius Gauslaa

---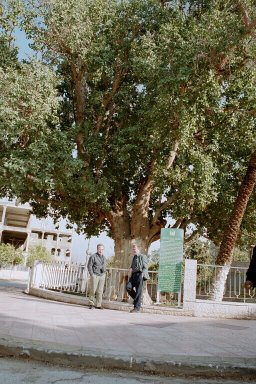 Then he noticed the big
sycamore tree growing
beside the street....
This is the tree in Jerico,
said to be the one climbed
by Zacchaeus.
TMG-photo
Let them see Jesus -
The Lord's Salvation
Luke 19, 1-10
Zacchaeus was a rich man, living in a well-known and strategically important town in Israel. His occupation was that of a chief tax collector. Despite his wealth, he was not a happy man. There was something missing in his life and heart. Something he could not explain.

Although his name, 'Zacchaeus', meant the righteous one, or clean, he was well aware of the fact that his conduct and morality did not conform to his name. As a tax collector, he would take a cut of what he had collected, justifying himself by saying 'Nobody would do this kind of work without getting something extra out of it!'

But he had other problems. Being a tax collector, he served the Roman occupier, the cruel enemy who oppressed the people of his nation. He was the one who took money from his own people in order to enrich their enemies and himself.

He was regarded as a collaborator, a traitor and a quisling. He was hated and despised by his own. He was a very lonely man. Having involved himself so deeply he could not now retrace his steps. He could not see nor find any alternatives. He had burnt all his bridges behind him.

He was also small in stature. His outer appearance was in some way a reflection of his deepest feelings and attitude towards himself. He was a 'little' person.

But then something happened in Jericho. Someone, who was becoming rapidly well known and said to be very special, was about to pass through his own city. Jesus of Nazareth was His name. A great and remarkable event! Zacchaeus may not have known it but this was to be one of the most important events in the history of Jericho. This same city was conquered by God's army through Joshua more than a thousand years before when its walls fell tumbling down. Now comes another 'Joshua' or 'Jesus', the same names really, representing and demonstrating the same divine power! Both declared the fact that 'the Lord saves'.

Zacchaeus had heard about Him. Now he wanted to see Him for himself, face to face. Therefore, he entered the streets of Jericho, hungry in his heart to see the well-known visitor. But he could not see Him! Why not? The crowd accompanying Him hid Him from his view! So many tall and mighty people coming along with this Jesus. The visitor Himself was completely hidden among His followers and the crowd. Zacchaeus looked and looked yet without seeing the One he longed for to see! What a tragedy! He wanted to see Jesus. Not His followers, nor His disciples and the people around them, but Him, the Lord's salvation Himself!

Then he noticed the big sycamore tree growing beside the street. Immediately he thought he would climb it. Usually, only kids would climb trees. He knew that. He also knew that people could laugh at him as he climbed up. Well, he would take the chance. People around him mocked him and laughed at him anyway. He had nothing to loose! Without further hesitation he eagerly climbed higher and higher his heart filled with anticipation.

Suddenly the crowd was below him. There were so many noises, people talking, shouting and even singing. He looked down and his heart beat wildly inside him. Suddenly, one of the moving group below stopped dead in His tracks. The people around Him seemed caught by surprise. What now? The Man who had stopped lifted His head, looked straight up at him and called him by his name. Mightily, but gently, 'Zacchaeus, make haste, come down, for today I must abide at thy house today'.

The thought occurred to Zacchaeus that although he had not been able to see Jesus that had not stopped Jesus seeing him! He even knew his name. Who had told Him? He calls his own sheep by name, and leads them out, John 10. 3. He also knew that he had a house, and He was asking him to take Him home. Only God knew what was really going on in Zacchaeus' heart at that moment.

Now, let us apply this remarkable story. First, we can praise God for in it He demonstrates His way of knowing and seeking us in order to save us and abide in us. Exactly in line with His invitation given both to the local church and the individual in Revelation 3. 20, 'Behold, I stand at the door, and knock: if any man hear my voice, and open the door, I will come in to him, and will sup with him, and he with me'.

Secondly, we see how Christ changes the heart and behaviour of the person He enters. There was now a 'different' chief tax collector in Jericho! How differently he behaves and sees how to live.

Thirdly, there is another lesson given us in this story. In the world today, there are so many like Zacchaeus. So many 'small' people longing to see and meet God's salvation in the Person of His Son, Jesus. They will look at those professing to be His witnesses, His friends, His believers. And what do they see? So often they see just a crowd of tall men and women hiding and overshadowing the Saviour. What they see is our pride, our self-righteousness, our 'priestly' garments, our claimed titles, our judging eyes and words, our condemning finger, our traditions, our doctrines, our buildings and our activities. But where is the One they really need to see in all this? Are they able to see Him and Him alone? His true face, His nature, His will, His open and saving arms, His wounds, His heart, His love, His might and His seeking eyes?

Satan from without, and the flesh from within, have so often succeeded in getting interested in their own self-exalted position, that they simply forget the real task and challenge which is to bring and reveal the Lord Jesus to all those Zacchaeus-like people among us.

May God help us to grow in faith just like John the Baptist did as he made it known that He must increase, but I [must] decrease, John 3. 30.

So then, dear fellow servants of the Lord, bring the Lord Jesus into and through the homes you live in and the villages or cities around you. There will be a lot like Zacchaeus there, waiting only for Him. You are His feet, arms, heart and mouth.

Now then we are ambassadors for Christ, as though God did beseech you by us: we pray you in Christ's stead, be ye reconciled to God. For he hath made him to be sin for us, who knew no sin; that we might be made the righteousness of God in him, 2 Cor. 5. 20-21.
Tor Marius Gauslaa
(This article was also published in the February 02-issue of "Precious Seed")
These articles are part of the work within norwegian Hjerte Til Hjerte (Heart To Heart), a free, non-profit,totally voluntary-based evangelistic work.

Address: Tor Marius Gauslaa, 4790 Lillesand, Norway. Donations (giro) 2850.13.10389
Phone 37 27 00 94. Mobile 90 65 64 27. E-mail: see og click here
Member of Innsamlingsskontrollen in Norway

More information also on www.hearttoheart.no
In norwegian: hjertetilhjerte evangeliet yerushalayim yeshua gauslaa